Christine Lagarde spent eight years as a cheerleader for the global economy when she headed the International Monetary Fund. Apparently that's a hard habit to break.
All those analysts and market participants who expected the head of the European Central Bank to coo and whimper about the strength of the euro and make noises to dampen its rise were disappointed on Thursday when Lagarde instead talked up the European economy, propelling the euro higher.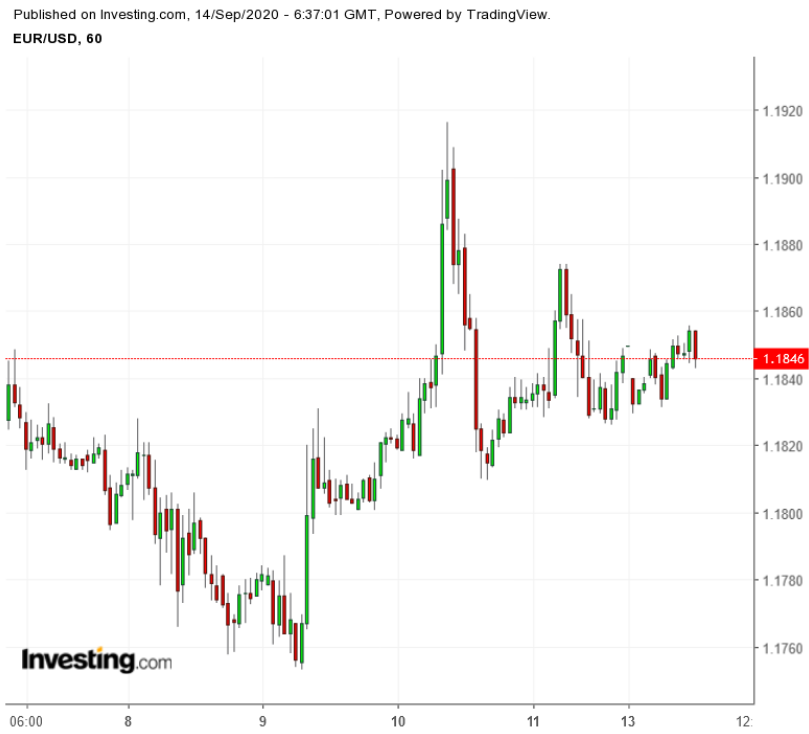 Other members of the ECB governing council scrambled to soften that stance on Friday.
Chief economist Philip Lane, executive board member Isabel Schnabel, and French central bank governor François Villeroy de Galhau all emphasized that policymakers were indeed worried about the impact of a strong euro and would do nothing to choke off a recovery by tightening monetary policy.
Less Attuned To Market Cues
Whereas Lagarde had taken an optimistic view about a strongly rebounding economy and suggested only that the central bank was keeping an eye on the exchange rate, Lane and Villeroy de Galhau both cautioned that a strong euro could harm the economy.
Lane, the former head of the Central Bank of Ireland, said the absence of inflation poses a risk and leaves no room for complacency. He suggested that data in the coming months could make the ECB adjust its policy and fueled speculation that the bank would indeed expand its €1.35 trillion emergency asset purchase program.
The shift by the US Federal Reserve to abandon preemptive rate hikes and to push for inflation in excess of the 2% threshold weighed on the dollar, putting upward pressure on the euro as the US seemed set to keep interest rates low for some time. Market participants were looking for reassurance that the ECB was at least cognizant of the dangers this posed and would reaffirm its accommodative stance.
It's always hard to know, when the head of the ECB speaks, to what extent it reflects a balance of opinion in the governing council. That was as true for Lagarde's predecessor, Mario Draghi, as it is for her. What's different under Lagarde is that she seems to miss the cues from the market as to what they expect to hear.
Some other council members reportedly were also on board with the benign view expressed by Lagarde, and are not really worried about a euro worth $1.20. The joint currency settled at a notch about $1.18 on Friday, not too different from its level before the meeting, after spiking above $1.19.
But that's still an 8% gain from its level at the onset of the coronavirus pandemic in March. Investors had been expecting enough concern from the ECB that the rate could drift downward.
Inflation in the eurozone slipped into minus in August, hitting a minus 0.2% compared to an increase of 0.4% in July. But Lagarde said the central bank expects inflation to increase to 1% next year from an average 0.3% this year, raising its forecast for 2021 from 0.8% previously.
This, too, countered market expectations. The August reading suggested a slower pace for inflation, a trend further exacerbated by the strength of the euro, which would dampen price increases on imports while making exports more expensive.
Rightly or wrongly, investors took Lagarde's optimism about the economy and its wait-and-see attitude on accommodation as relatively hawkish for monetary policy, instead of the dovish stance they had expected. Some economists now expect the euro to head for $1.20 and to test that threshold.
On top of that, a resurgence in COVID-19 infections has paused the reopening of the economy in several EU countries or led to new shutdowns, crippling the expected rebound in tourism and slowing economic recovery in general.
This makes the ECB inflation forecast seem high, but even that level of 1% is too low to indicate a robust recovery, suggesting that more monetary stimulus will be needed, either in a further decline of benchmark interest rates or an expansion of asset purchases.
But this is not the message Lagarde was sending. Instead, it was hip-hip-hooray for a stronger-than-expected rebound, enabling the eurozone to trim its forecast for retraction this year to 8% from 8.7%. It may be this type of forward guidance will backfire.

Written By: Investing.com