Lira's Week of Misery Leaves Currency at Mercy of Policy Makers
Bloomberg | May 17, 2018 04:57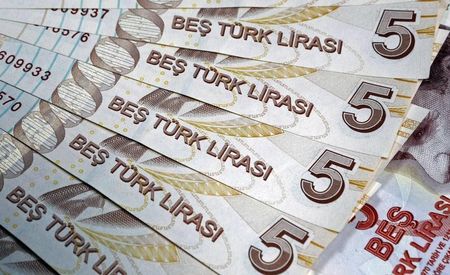 (Bloomberg) -- The lira is being buffeted by signals stemming from President Recep Tayyip Erdogan and increasingly impatient investors who are conflicted by a lack of action.
If policy makers don't act soon, the currency may test its record low of 4.5010 per dollar touched on Wednesday. It wouldn't be the first time traders have been let down by inaction this week. Over the past six trading days, market expectations of a looming interest-rate increased were fueled by a meeting between Erdogan and economic officials, only to be extinguished by vague statements that followed.
Below is a chart of the "interventions" and the fleeting effect they had on the markets as investors say the ultimate cure to the lira's ills is still missing: interest rates high enough to compensate for double-digit inflation and a widening current-account deficit.
1. May 9: Erdogan calls policy makers, including central bank Governor Murat Cetinkaya, to his palace. The currency surges almost 2 percent on speculation it would open the way for a rate increase.
2. May 9: The statement that follows the meeting, however, contains few specifics and disappoints investors who were positioning for a hike; the currency tumbles 1 percent on the day.
3. May 10: Cetinkaya chairs a second meeting with economy officials, and no statement follows.
4. May 11: Erdogan renews calls for lower rates, pushing the currency lower yet again.
5. May 14: Erdogan meets with investors in London.
6. May 15: Bloomberg TV airs an interview with Erdogan, who says he will take more responsibility for monetary policy after elections next month. That spooks investors and sends the lira tumbling 2.5 percent to yet another all-time low.
7. May 16: The central bank issues a statement saying it will take necessary action, sending the currency higher by 1.2 percent against the dollar.
Written By: Bloomberg