As investors grapple with their losses in stocks vulnerable to the coronavirus pandemic, Nike (NYSE:NKE) is showing them their faith in this global brand will pay off in the end.
Nike was among the earliest companies to get caught up in the coronavirus-triggered slowdown. The global sportswear giant was forced to close its stores in China, it's second-largest market after the U.S., when the Covid-19 pandemic hit that nation early this year, endangering sales from the company's largest Asian market.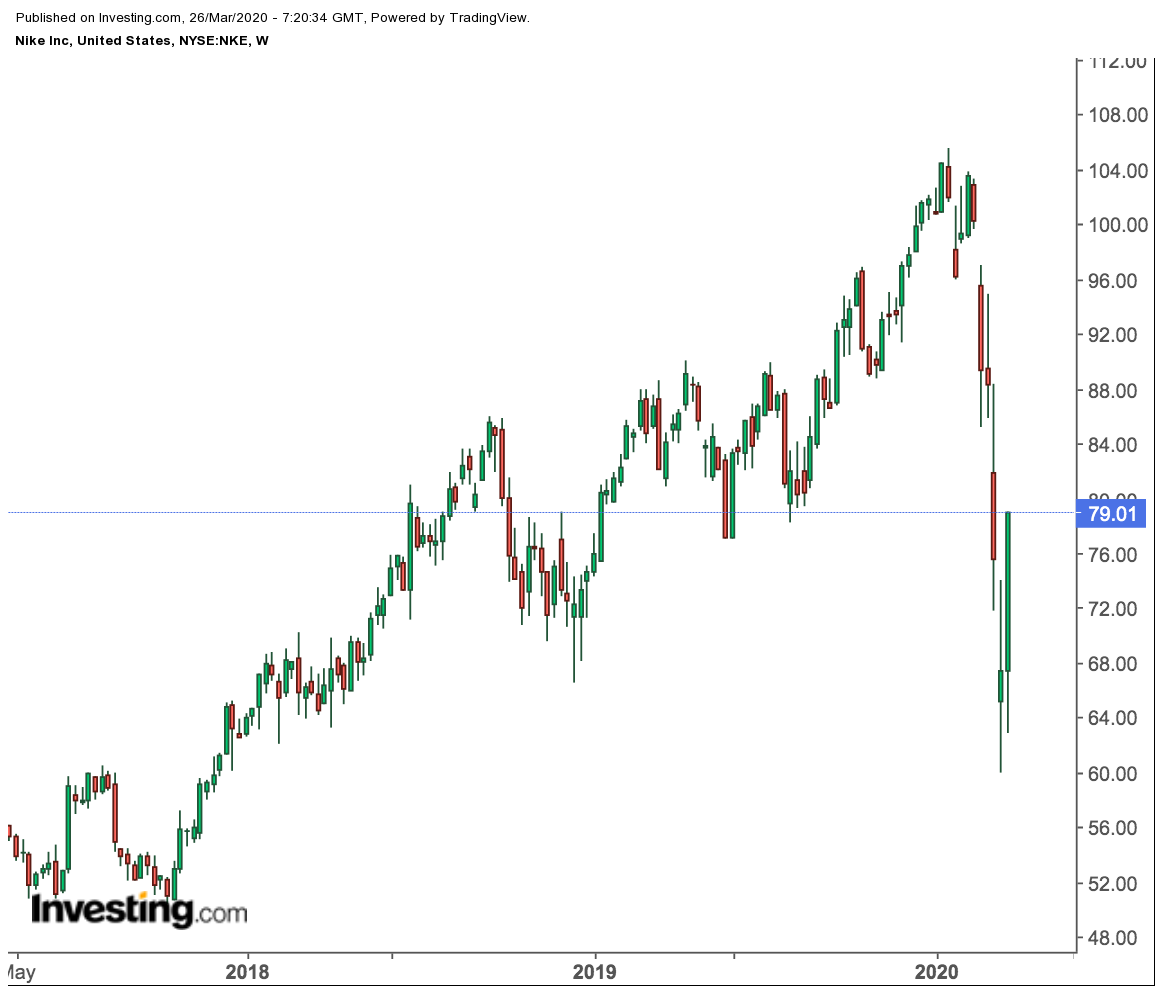 Investors dumped Nike shares amid the health crisis that has now spread to North America and Europe. But the company's latest earnings, together with its strategy for emerging from this downturn show that this beaten down stock could be a great bargain for long-term investors.
The company said on Tuesday it posted revenue of $10.1 billion for the three months ended Feb. 29, a period that included store closures across China, beating analysts' projected revenue forecast of $9.6 billion. During the period, Nike made $0.53 a share profit, meeting analysts' estimates.
The biggest surprise in this latest earnings report was that Nike was successfully using its e-commerce channels to mitigate the impact of store closures in China. That means it now has a real chance to further strengthen its digital presence in Europe and the U.S. where hundreds of millions are now living under various forms of lockdown. E-commerce sales rose a whopping 36% in the quarter after expanding 35% last year.
Still in a Growth Mode
Chief Executive Officer John Donahoe told analysts in a post-earnings call that the company's e-commerce operations remain "in growth mode," despite the demand shock presented by the coronavirus outbreak.
"At a time when people were confined to their homes, we moved swiftly to leverage our digital app ecosystem and Nike expert trainer network," accelerating app sign ups and engagement for Nike Training Club workouts, he said.
Weekly active users for all of Nike activity apps were up 80% in China by the end of the quarter versus the beginning of the quarter. That remarkable performance was enough to send its shares soaring 9% yesterday to close at $79.01. That rebound has cut the losses in Nike shares to 22% for the year.
This rebound is likely to accelerate as the company prepared to apply its China "playbook" in regions around the world where the pandemic is forcing the company to close its brick-and-mortar presence.
"Nike's digital prowess and ability to manage through the virus in China is likely a good proxy for how the recovery will take shape in North America and EMEA," Susquehanna analyst Sam Poser said in a note carried by Bloomberg. Poser, who has set a $100 price target for Nike stock, added:
"Brand strength, digital prowess, and a fortress balance sheet position the company to emerge from this crisis even stronger than before it went in."
Nike's push to capture women's business is another area where it's succeeding, producing double-digit growth in that category. In assessing the company's biggest long-term opportunities, Chief Financial Officer Andy Campion listed women first, followed by apparel, digital and international.
Many analysts believe that these initiatives and strategic investments, particularly in digital, should help Nike to regain its full growth potential in fiscal 2021.
Bottom Line
Nike is one of those stocks that are well-positioned to come back strong once the disruption caused by the coronavirus ends. The crisis also provides a litmus test to see whether the company's massive investments in technology are succeeding in transforming the sportswear giant into a high margin business. The latest earnings report is good enough to prove that point.

Written By: Investing.com