Tilray (NASDAQ:TLRY) grabbed all the headlines last week after it posted its first profitable quarter—on an adjusted basis —last Wednesday. But by the end of the week, it was Aphria (NASDAQ:APHA) (TSX:APHA), the company it is set to merge with to form the world's largest cannabis company, that walked away with all the gains.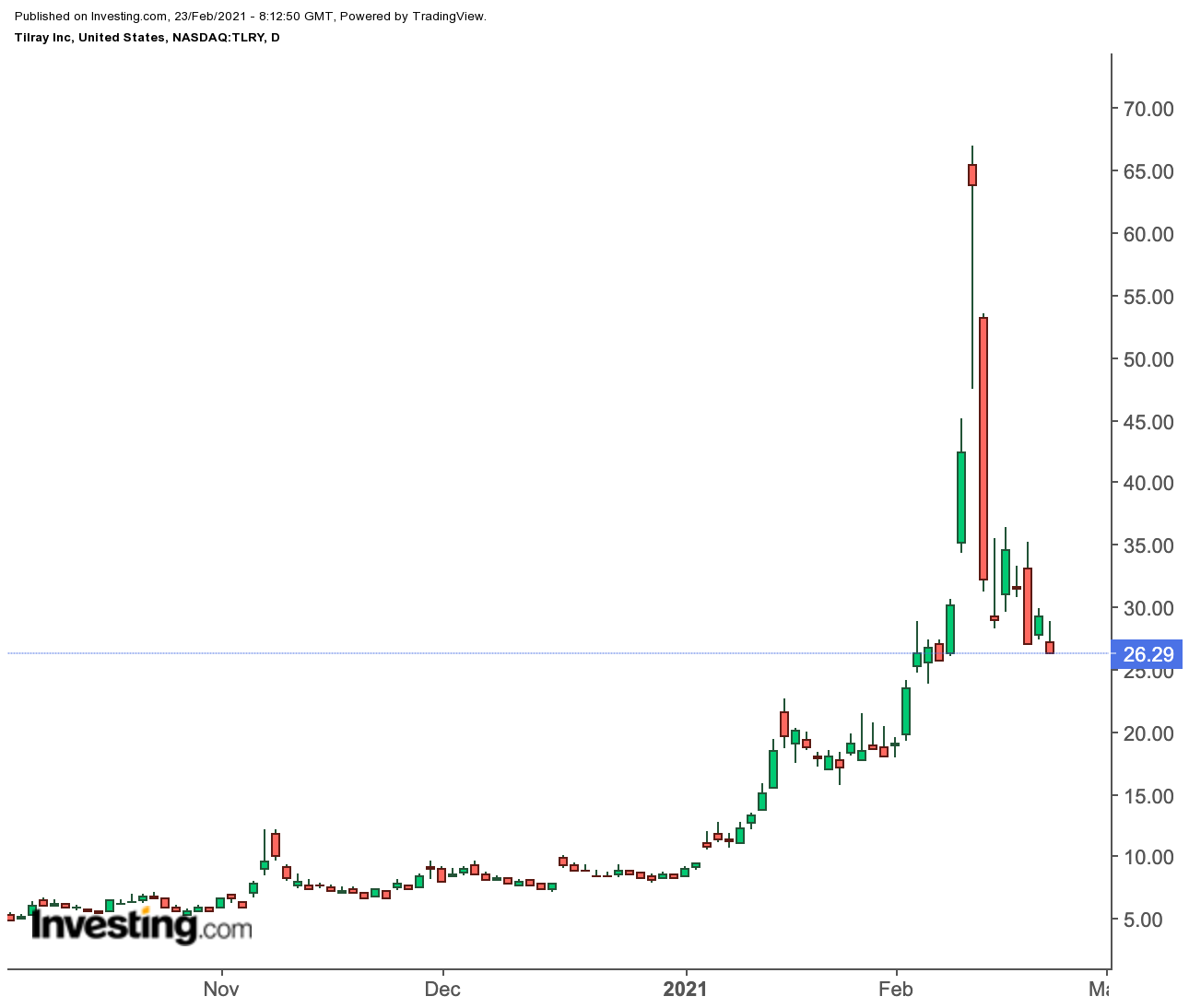 Shares of Tilray saw an immediate lift after it unveiled its earnings last week that included US$50.7 million in net revenue, a huge gain compared with the same period last year. It also reported a substantial US$57-million drop in costs, a move that helped it to report an adjusted US$2.2-million profit for the three-month period, ahead of the 2021 Q2 close of its announced merger with Aphria.
The news sent Tilray shares up with double-digit gains. But by the end of the week, the stock was down about half a percentage point, closing Friday at $29.21, lower by just over 2% on the week. It dropped again yesterday, finishing the day down another 10% at $26.29.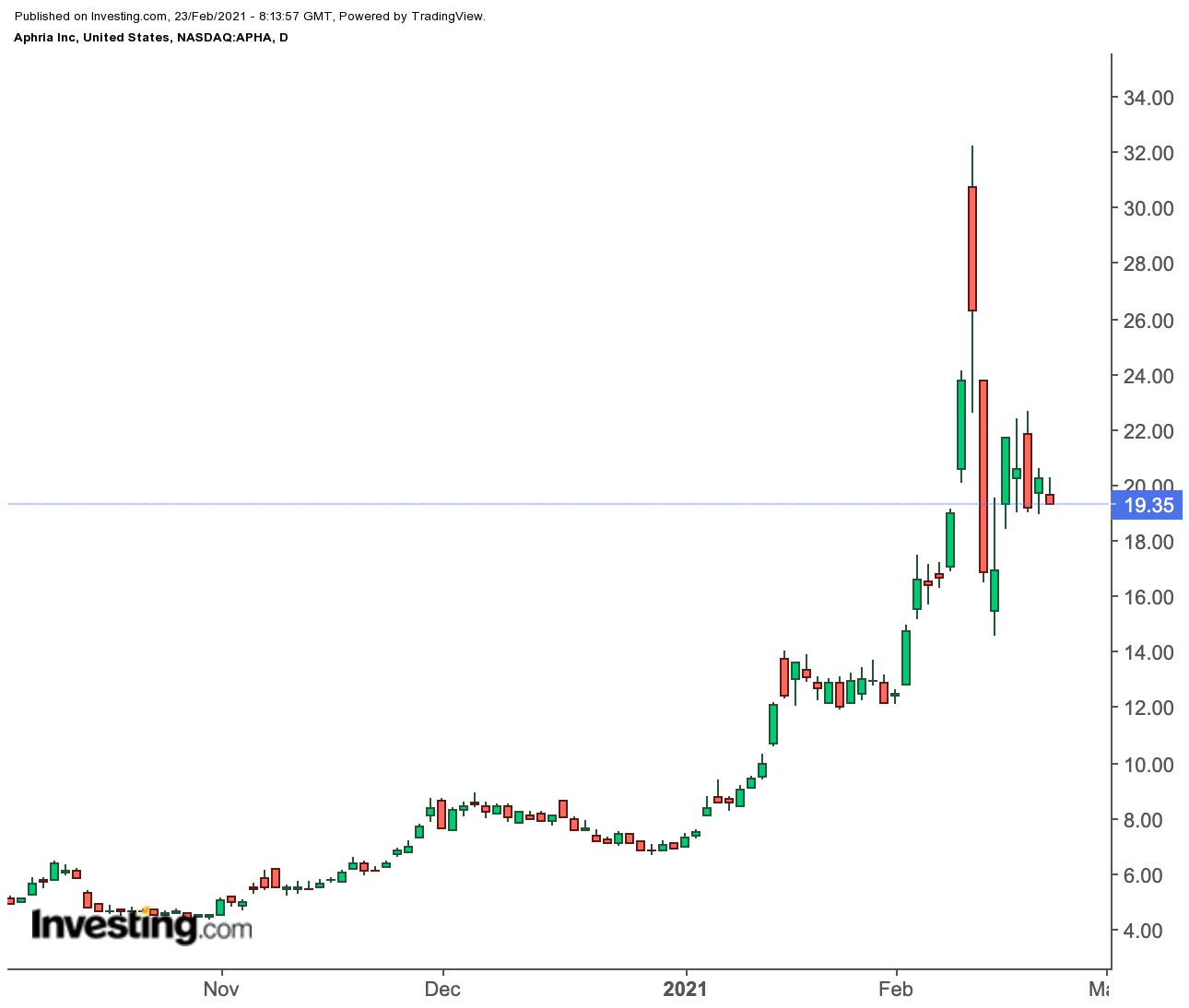 Meanwhile Aphria stock closed last week with an almost 20% gain in its price. Shares of the Canadian cannabis grower spiked in mid-week last week on the strength of the Tilray headlines, to hit a high of $21.98 before closing of the week at $20.28. It has since given back some of those gains, closing yesterday at $19.35. Year to date, Aphria is up about 177%

Hexo Strikes Deal With Zenabis
Tilray is not the only major cannabis company that is on the path to becoming one of the biggest in a class.
Last week, Hexo Corp (NYSE:HEXO) (TSX:HEXO) announced it has struck a C$235 million (US$185.7 million) all-stock deal to acquire Zenabis Global (OTC:ZBISF) (TSX:ZENA), a Vancouver-based company that is among Canada's largest licensed producers of medical and recreational cannabis. The new combined company will be among the "top three licensed producers in terms of combined Canadian recreational cannabis sales," according to a joint statement issued by the companies.
The deal will increase Hexo's greenhouse growing capacity and immediate access to the European medical cannabis market through Zenabis's local partnership network.
Shares of Hexo have gained almost 43% in the past year.
Canadian Cannabis Sales Soar, But Fail To Meet Predictions
Canadian legal marijuana sales were way up in 2020, according to the latest figures released by Statistics Canada. But despite the bump, the figures are below what analysts had predicted.
In 2020, Canadians purchased C$2.6 billion (US$2.1 billion) of legal recreational cannabis, more than twice the amount purchased in 2019, according to the figures released by StatsCan last week. The exact jump amounted to a 120% increase in sales. Forecasters, however, claimed the market would grow to more than C$3 billion (US$2.37 billion), with analysts with BDS Analytics having said sales would hit C$3.3 billion (US2.6 billion), while Cowen & Co., according to media reports, were expecting to see sales hit C$3.5 billion (US$2.765 billion).
Despite analysts having missed the mark, at least one prediction for the current year expects to see the Canadian recreational weed market will hit the C$4-billion (US$3.16 billion) mark. That is the word from Stifel-GMP analyst Andrew Carter, as reported by BNN Bloomberg.
New Jersey Legalizes Pot
New Jersey became the 13th state to legalize cannabis on Monday after voters last November supported the move. New Jersey joins Maine, Vermont and Massachusetts as the only other states in the northeast US to legalize marijuana.
The bill that was signed into law also allows state-approved dispensaries to sell the substance, although it could take up to a year before sales of recreational cannabis will be seen.

Written By: Investing.com